PRESSURE RELIEF VALVES
Your Trusted Provider of High-Quality Pressure Relief Valves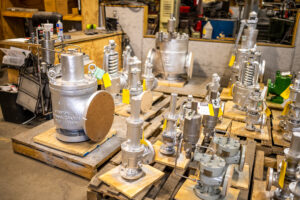 Why Choose Pressure Relief Valves from Precision Pump & Valve Service, Inc.?
Safety First

Our pressure relief valves are designed to provide reliable overpressure protection, safeguarding your facility and personnel from potential hazards.

Superior Performance

Our valves are built to perform under demanding conditions, ensuring consistent and reliable operation in various industrial environments.

Wide Selection

We offer a comprehensive range of pressure relief valves to suit your specific needs, including spring-loaded, pilot-operated, and rupture disc valves.

Trusted Brands

We partner with leading manufacturers to provide you with high-quality pressure relief valves that meet industry standards and regulatory requirements.

Expert Support

Our knowledgeable team is available to assist you with valve selection, installation, and maintenance, ensuring optimal performance and longevity.
Pressure relief valves are commonly used in many industrial and commercial settings, including boilers, compressors, and other pressure vessels. They are an important safety feature that helps to prevent accidents and protect equipment from damage.